Bringing Game Changing Solar Concentrator in India
Boost to "Atma Nirbhar" and "make in india" initiative
Sunrise CSP India has been formed since 2018 to address and offer cost-competitive solutions both in CST and CSP field. It brings to India the world most efficient and largest Solar Concentrator. It brings Patented Technologies from Sunrise CSP Australia and would be game changer. Sunrise Australia has also invested in Sunrise CSP India through Sunrise International and the first round of funding the do the first Project has been secured.
Corona Crisis has made man-kind more aware of the dangers of climate change. Some experts call it the trailer, if human-being does not take its lessons and change its way of life. Including changing its use of energy pattern and learn to live in harmony with nature.
Globally there has been awareness and many government's including India has embarked and set very ambitious targets and also on the path of achieving clean energy. The progress that could be achieved till date is due to drastic price reduction in photovoltaic panels which has seen nearly 90 % cost reduction due to the scale of the economy.
In last 6 years India has been able to ramp up power from Solar from 16 MW to 36,000 MW and aims to achieve 100 GW (100,000) MW by 2022. The biggest disadvantages of achievement of Solar power from PV (Photo Voltaic) has been India's and global dependence on cheap panels from "China". China has 90% market share.
Solar Thermal Energy offers a way out of imports. Solar thermal energy systems have many other advantages over Solar PV,
Solar PV has an efficiency of around 19% whereas Solar Thermal Systems have efficiency ranging from 50-85 % depending on technology, application and temperature one needs for applications.
Solar Thermal System are manufactured in India meeting the government's goal of "Atma Nirbhar" and "Make in India".
Besides reducing its dependence on imports and offering energy security, Solar Thermal Industries will also create jobs in India as it is more labour intensive and are designed for specific applications each time.
India has one of the largest CST program. UNIDO on behalf of Ministry for New and Renewable Energy (MNRE), N. Delhi had carried out market surveys to establish the market size and its feasibility. The CST for Thermal Applications alone has market of 6.5 GW (6500 MW th) for heating and cooling applications.
There have been many successful installations for Solar Thermal Applications CST (Concentrating Solar Thermal) in India with different Solar Concentrator technologies including the World's largest Solar Steam Cooking System at Shirdi Temple that cooks 50,000 meals per day with solar-generated steam,
A Solar Air-conditioning System of 100 Tonne refrigeration that provides cooling to a 160-bed hospital to Systems providing Steam has also been operational since 2006. Other applications have been for Process Heating and Cooling.
Increasingly there are new applications such as Solar Desalination, Waste Water Evaporation, Solar Crematorium, Solar Furnaces etc are being developed and thus the reach of CST is bound to grow.
Besides Solar Thermal Applications India will also be able to use Solar Concentrators for Power Generations called Concentrated Solar Power (CSP).
China has already recognised that future lies in CSP and in Solar Thermal Storage to address Grid Stability and need for supplying Solar Power 24 X 7 and has an ambitious 5 GW Program being implemented and now with Sunrise India's "BIG Dish SG4" Solar Concentrator India too will be able to join and compete in the league.
Evolution of Sg4

(please click on the milestone to read more)
<! ========= Cool Timeline Free 2.0.6 =========>
The Chairman and Managing Director, of Sunrise CSP India,
" 
Deepak Gadhia
"
, has more than 30 years of experience in Solar Concentrator technology. He was instrumental in bringing and successfully commercialising Scheffler Concentrating Technology in India. His company Gadhia Solar was one of the worlds largest Solar Concentrating based cooking system manufacturer. The company under his leadership installed more than 60 Steam Projects all over India including the Worlds largest at Shirdi Temple and systems of Tirupati Temple and in many Hostels, Colleges, Universities, Industrial Canteens, Army
continue reading…
Pranav Gadhia, the C.E.O of Sunrise CSP India Pvt Ltd, was also Director of Gadhia Solar and he was project lead  who installed world's first and largest solar steam cooking system in Shirdi, India. He has graduation in Bachelor of Commerce from the well esteemed univeristy, "University Of Bombay". After completing his graduation  in the year 2002, he followed his uncle's passion by joining Gadhia Solar Pvt Ltd. He held  24% of equity in the  company. More than 50 of solar projects including world's largest solar steam cooking system, were executed under his leadership. He was also the vice president of Excellent Renewable Pvt Ltd, who were the first one to install the Bio-CNG Plant in India. He now heads Sunrise CSP India Pvt. Ltd and thus brings vast experience in these field.
The C.E.O of Sunrise CSP Pty Ltd, Australia, "Artur Zawadski", has completed his graduation from Canberra University. He has more than 30 years of the industrial experience.He was responsible for Development & program delivery with Unisys Australia. He was also Program Director of Australian Federal Government practice as well as Founder & investor of Wizard Power Pty Ltd.
The Director of Sunrise CSP Pty Ltd (Australia), "George Nicola" has persued his graduation from University of technology, Sydney. He has more than 30 years of experience in introduction of IT roles, BUsiness Software integreation & Sales Manager roles with Global Technology providers. He was at Executive Management positions with Oracle Corporation, SAP Australia, Telstra, SingTel Optus, Hewlett Packard & Business Advisory companies.
Keshav Prasad, an Adviser of Sunrise CSP India, is a Solar Energy Professional, having an experience of more than 25 years in Technology & Business Management. He was a part of Start-up team of Tata Power Solar and has built & managed large portfolio of Solar PV and Solar Thermal Project & Manufacturing Operations. As COO & CEO of a Solar Project development company, he has built a profitable business and a GW scale project portfolio.
Vinay Pandya, an Advisor of Sunrise CSP India, is a chartered Accountant ranking 41. He was  a CFO of Mitsu Ltd/Bilag Ltd as well as Ciba Giegy- Lalbhai JV. Furthermore, He is Director Finance of Micro Inks Ltd (Listed Co) Group CFO of Ashok Primal Group. ( 2 Listed Entities).
Projects on hand and in implementation
Sunrise CSP India has been awarded Contract to design, manufacture and install a Scheffler Concentrator based Solar Kitchen for the NGO called "Pathshala". The System would have 2 Scheffler Concentrator of 16 meter square each and would reflect the
Read more...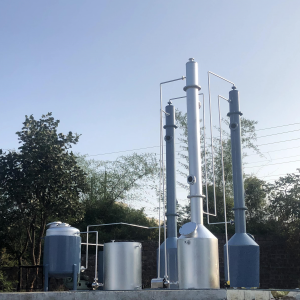 Funded by a CPRI ( Central Power Research Institute) of Bangalore RKDF University has placed order for CCS project with sunrise not just to supply 2 Scheffler Concentrators of 16 m2 each but also CO2 absorption system. Co2 from flue gases
Read more...
A BIG Dish SG4 Solar of 520 m2 is being installed at MSA-Muni Seva Ashram (www.greenashram.org) a NGO near Vadodara and the system would generate 400 kg/hr steam to supply for process heating, cooling and steam cooking for hospital run by MSA . Earlier the steam was being generated and supplied by 100 Scheffler Concentrator of 12.5 m2 each which was supplied by Gadhia Solar. The advantage of BIG Dish SG4 Concentrator is that it requires 1/3 the foot print on ground and only half the reflector area.
Read more...
Please click below to see the video of functioning of BIG Dish SG4 at Anu, Canberra Australia
Australia Office Location